The scene is typical in movies. You know the one. The camera pans through the house to the front door, which opens to reveal the outside, then abruptly turns and shoots towards the pillowy clouds. It is inspiring to be sure, a way to visually represent the opportunities that lie outside the door of your home. What we, at Entry Brite, see when this whole scene is playing out is the opposite, like the video to the right and with some incredible custom doors and windows. We see the opportunities that are available in your home just as much as those outside. In the video to the right, the camera pans up, showing a gorgeous front door welcoming us into the home. It is inviting, exciting and a bit intimate to be welcomed into someone's home. It is generally a sign of friendship and a show of trust that defies the societal norms of hiding in our homes and staring at electronic devices all day. Let's face it, in today's world, the home's front door is not as welcoming as it has been in previous decades. When you arrive at the typical front door you are met with security cameras, "No Soliciting" signs and maybe even a doorbell that doubles as a webcam. We have come a long way from the days when an unannounced knock on the door meant a pleasant visitor, and not a cause for alarm. At Entry Brite, we are committed to changing that attitude, one doorway at a time.

CHANGING SOCIETY
Traditionally, the front door was the only accepted entrance to the home. These days, it is the garage door that many of us use to access the home. We pull our cars out in the morning, as safe as can be and take on the big bad world before pulling back into the garage and closing out the world. We get it, you probably have an incredibly boring door with no windows and a peephole that is too tall. Your entryway is probably dark enough for a desperate vampire to sleep in for the day. At Entry Brite we want to change that. We like to think of ourselves as ambassadors of entryway beautification (not an official title). We feel that now is the time to reclaim a bit of the past when the entryway was a critical part of the home and served an actual purpose. Of course, even if that purpose was to look pretty, we are okay with that too. If you look at classical architecture, the entryway had a very specific purpose. It served as a welcoming area and gateway to the home. This area was as much psychological as it was physical, not quite outside and not necessarily inside the house. For instance, many times the floor of the entryway was not carpeted, but incorporated tile or stone. This not only made it easy to clean but formed a barrier between the more intimate parts of the home—almost like bringing the outdoors inside.
If you look at a place like Thomas Jefferson's Monticello, a very celebrated piece of American architecture, the entryway is grand, features two staircases and creates a very clear division of space. The doorway is gorgeous with a classically styled, romanesque feel and southern charm. The entryway was a form of limbo in which you would wait for the homeowner to invite you into the parlor. The parlor was the general entertainment center of the home. Many times, this is where the guests of the homeowner would visit and play games. If you made it past the entryway you were officially into the social circle of the homeowner. In fact, if you want a door that reflects the style of Monticello, Entry Brite can turn your door into a gorgeous representation of that southern classic style. These doors harken back to the time when we invited people into our homes on a much more regular basis. Today, grand entryways are scrapped for more important features like a media room or a space as equally anti-social. Not that there's anything wrong with a killer media room, but generally the interaction is between you and the media. Society has changed to the point that we no longer need to design our homes to be impressive, we have removed the parlor from new construction and replaced the entryway with drab spaces that hold a coat closet and maybe a shoe mat. Entry Brite is here to change that.


WHY ENTRY BRITE ENTRY DOORS
Big box stores sell all sorts of entryway doors and they generally have a pretty good selection. That being said, they generally have only one or two sizes to choose from in each design. So it is entirely possible that you will be stuck with a new door that will not fit in your existing entryway. The problem with mass-produced doors is that they are often slapped together as fast as possible with little concern about how it will fit when it is finished. Many times, homes are built to inexact standards and the doors do not always fit. This is where the crew with experience finishing out houses comes in a custom hangs all of the doors. Once complete, no door is hung quite the same and that right there is a reason to use Entry Brite to beautify your entryway doors. You never will need to make modifications to your door frame like you would with a door that was purchased at a big box store. We will save you money, get the exact fit you are looking for and you will end up with a unique entryway door that your neighbors will envy.
Not only do we create something that was actually designed with the size of your doorway in mind, but we also create something that is stunning and unique to fit your personality and style. We can work with you to find the exact design that features elements you love. For example, we can create something rustic utilizing wrought iron or we could put an eclectic flair to the design with unique stained glass. We also have traditional style designs and sleek, modern designs to choose from. No matter what type of statement you are looking to make, our team can help you make it. With years of experience working with homeowners, we understand how to turn dream designs into reality through beautiful entryway doors and other customized elements. We can even draw those elements from your new custom entryway door and spread them throughout your home with other pieces such as cabinets, interior doors, windows, and more. There is truly no limit to how we can utilize our pieces throughout your home. When you choose to work with Entry Brite, you are choosing to work with professionals who value their clients' time and money. We work diligently to ensure you are 100 percent pleased with the end result.
So take the step to a truly custom entryway door with Entry Brite. We look forward to helping you create an entryway that will be the talk of the neighborhood.


HOW WE DO IT
The true genius of installing an Entry Brite custom front door is that you do not even need to buy a new door. That's right, we will take your existing door and create an entryway that will appear completely new. You may be wondering how it is possible to take a boring old door and make something truly extraordinary. The process runs something like this. After the initial consultation, you will have already picked out your ideal custom door glass and we will make the pane to the exact dimensions to fit your existing front door. This is where the true advantage of utilizing Entry Brite for your custom entryway door, the glass actually is fit into your specific door, meaning no hassle when fitting the doors and a precise fit of the glass. After removal we cut down one or both of your entryway doors and mount the glass into the original door frame. We then mount your "old" back into its original spot. Easy as can be. Be sure and check out our Before and After gallery to truly see what a dramatic difference that an Entry Brite door can have on the curb appeal of your home. By removing all of the hassles that usually come with mounting a new door, the Entry Brite system is the ideal way to get a new look for your home at an exceptional value.

WHAT WE DO
When we began our business, there were many ways to change the look of your home and entryway. Generally, homeowners added windows on either side of the door and maybe a window at the very top of the door. Most entryway doors were drab chunks of wood or steel that had very little aesthetic value. These doors may be stained with a complimentary color for the house but still provided a stoic barrier. Of course, a barrier is important to discourage those who would attempt to enter your home and cause harm or steal your property, but what if you could still have a secure front door but add a gorgeous touch of class? Entry Brite is unique in the custom front door game due to the fact that we utilize your existing front door and essentially make it unrecognizable—in a good way. You can choose from thousands of patterns, glass styles, and accents. Basically, Entry Brite can transform your boring old door into the centerpiece of your home.
The process begins with a consultation. Depending on where you live, whether it is Las Vegas, Phoenix, Tucson or Riverside County, we have a showroom gallery available for you to browse the options available to you. We have a huge selection of styles to choose from and we are sure you will find a panel to fit your tastes and architectural needs. Keep in mind that if you are on the fence about what your new front door will look like, you can visit our gallery page to peruse examples of our work. We are a fully custom glass shop so no matter what type of front door you have, depending on the condition, we can make a piece of glass to fit. No matter what your style and taste may be, we have a style to meet your needs. Generally, when people think of architectural glass they immediately picture an elegant stained glass window that can appear delicate and fragile. At Entry Brite we offer not only gorgeous stained glass but frosted contemporary designs and classic artistic expressions. Let's say you have a restored tudor and want to spruce it up a bit. The ideal glass from your door may not be a typical period-specific design but a bit more funky modern pattern. That is the beauty of working with Entry Brite, you are not limited to only classic or contemporary designs, we make styles to fit every taste and every door.


WINDOWS, CABINETS AND MORE
Now, you may think that Entry Brite is only concerned with creating the finest custom entryway doors available. Fortunately, we did not stop there. We are also your ideal contact for decorative windows of all shapes and sizes. That is part of what sets Entry Brite ahead of the curve, we are able to create our glass windows, doors and cabinets to order, none of this cookie-cutter big box stuff. We offer you the opportunity to have gorgeous, matching windows throughout your entire home. After we remodel your entryway door, we can add custom windows on either side if there is room. We can then perform the same miracle on those drab 1990's style cabinets. We will remove each cabinet door, measure for proper fit and remount the finished product back on the wall for all to see. This will work for homeowners wanting to add an added element of uniqueness to their kitchens. Having cabinets that display your fine china or simply for a design statement, can add to the desirability of your home if you can ever bring yourself to sell it. These types of cabinets can do wonders for a bathroom as well. In fact, we can add frosted privacy windows in the design of your choice in your bathroom complete with matching glass panels in your cabinets.
Looking to add a custom feel to your dining room doorway? Not only can we turn your cabinets into a stunning design element, but we can also transform any of your interior doors. We can carefully design your choice of glass and fit it to any interior door. Perhaps you have a backdoor that is outdated and detracting from your home's beauty. Talk to our team about how we can create a custom design for your backdoor that will make it as inviting as your front door.
Beyond just designing stunning glass doors, we also can transform any windows in your home. Upgrade a sunroom with beautiful customized windows that help create a more inviting space. We could even create beautiful stained glass sun rays to add to your room's windows. Take an archway window and turn it into an eye-catching design element. Add wrought iron into the mix to add an extra rustic touch to your home. Choose an eclectic design to make a room stand out in your home or opt for a traditional piece.
If you need inspiration, talk to our team. We have years of experience using beautiful, customized glass to add flair to any home. Unlike purchasing elements from a big box chain, when you work with Entry Brite you receive customized care and attention to every detail of your project. We can work with you to turn cabinets, windows, and interior doors throughout your home into stunning masterpieces you will enjoy for years to come. After all, what is more timeless than glass?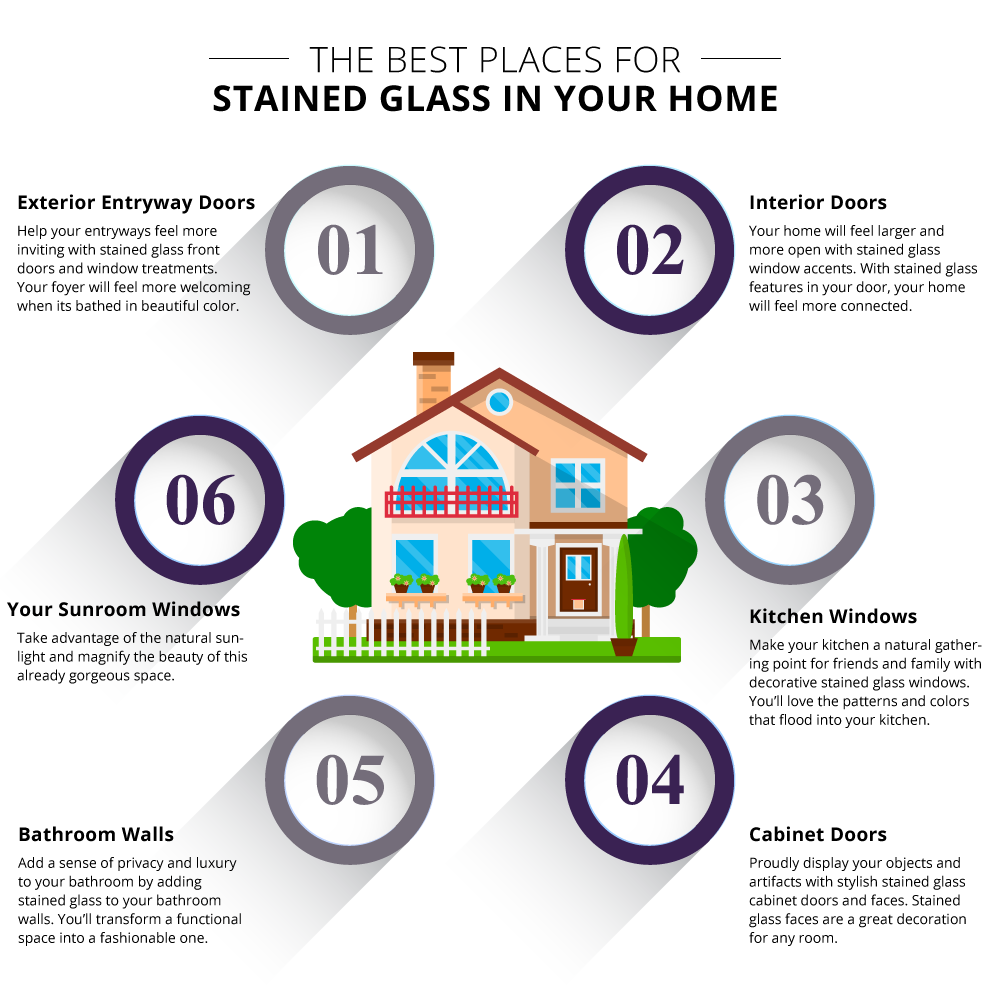 IT IS TIME TO GET STARTED
If you are ready to enhance your home's curb appeal and add an entryway that you can be proud of. It is time to contact the experts at Entry Brite. We will walk you through the process and ensure that you are satisfied with the results. So whether you need to give your entryway a new look, new cabinet doors in your kitchen or even a new frosted glass window in your bathroom, Entry Brite is your local entryway transformation leader. Proudly serving Las Vegas, Phoenix/Tucson, and Riverside County, we are ready to assist you in enhancing your curb appeal. So don't wait, give us a call today for your consultation. You never know, you may just like your new entryway so much, you may never go in the garage again!